Cyber First Responder 1-Day Class - November 5th, 2020 - Virtual
Please join us for our Virtual Cyber First Responder Class on Thursday, November 5th, 2020!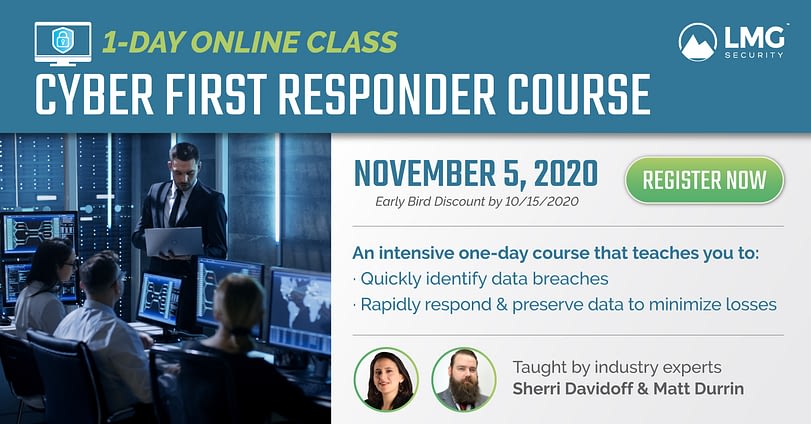 Cybersecurity first responders need to react quickly to identify data breaches and minimize potential losses. Learn how to respond to malware, cloud breaches, network intrusions & more in this intensive one-day bootcamp. You'll get hands-on experience practicing the fundamentals of incident response and digital forensic acquisition (including incident triage, chain-of-custody and evidence preservation fundamentals), volatile memory acquisition, hard drive imaging, network-based evidence acquisition and cloud investigations. Designed for anyone involved in cyber response. Bring your caffeine and be ready!
$445 Sale Price ends October 15th, 2020
$495 Regular Price until October 22nd, 2020
$545 Late Registration until November 3, 2020
Who Should Take This Course:
IT staff tasked with responsibility for detecting and triage of incidents on computer systems
Incident response team members who are involved in responding to data breaches
Help Desk staff that may be the first point of contact for reports of suspicious activity
Anyone with a general technical background who might be asked to respond to a suspected cybersecurity incident
Agenda:
Incident Detection and Triage
Cloud Breach Response
Evidence Preservation Fundamentals
Volatile Evidence Collection (RAM & more)
Hard Drive Imaging
Network-Based Evidence Acquisition
What You'll Receive:
30 days of access to the LMG Cyber First Responder virtual lab
A downloadable lab workbook
Sample Incident Response Policies
Time: 8:30am to 5:30pm MST  November 5th, 2020
Location: Virtual

Coffee Break Sponsor: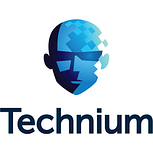 Enjoy virtual coffee/tea with the group. Each registrant will receive a complimentary mug and choice of coffee or tea shipped to their home, courtesy of our partner, Technium.
Instructors: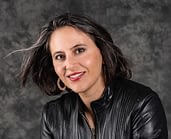 Sherri Davidoff – Sherri is the CEO of LMG Security and the author of the recently released book "Data Breaches." As a recognized expert in cybersecurity and data breach response, Sherri has been called a "security badass" by The New York Times. She has conducted cybersecurity training for many distinguished organizations, including the Department of Defense, the American Bar Association, FFIEC/FDIC, and many more. She is a faculty member at the Pacific Coast Banking School, and an instructor for Black Hat, where she teaches her "Data Breaches" course. She is also the co-author of Network Forensics: Tracking Hackers Through Cyberspace (Prentice Hall, 2012), a noted security text in the private sector and a college textbook for many cybersecurity courses. Sherri is a GIAC-certified forensic examiner (GCFA) and penetration tester (GPEN), and holds her degree in Computer Science and Electrical Engineering from MIT. She has also been featured as the protagonist in the book, Breaking and Entering: The Extraordinary Story of a Hacker Called "Alien".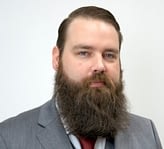 Matt Durrin manages the incident response and R & D teams at LMG Security. He is an instructor at the international Black Hat USA conference, where he teaches "Data Breaches" He regularly conducts cybersecurity webinars and seminars for hundreds of attendees in all sectors, including banking, retail, health care, government and more. A seasoned forensics professional, Matt specializes in incident response, ransomware cases,  cryptojacking, and banking trojans. Matt holds a Bachelor's Degree in Computer Science from the University of Montana and previously worked as a "blue team" field technician/system administrator for over 10 years. His malware research was recently featured on NBC Nightly News.